Post by carlton43 on Feb 13, 2014 2:53:00 GMT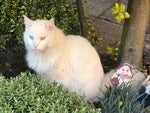 I would have voted 'Yes' for both reasons.....To stop free movement and to hasten the exit. But, I don't think that the Swiss did.
I think that on the day cessation of free movement with dilution of wage rates and pressure on bottom end jobs outweighed fears of upsetting Brussells. Probably they rightly think their Government will be able to arrange a fudge and mudge 'let' to allow them to do this to the East Europeans of whom many bluecollars are rightly very worried.
We should do the same here. Ignore the EU complaints and very very slowly negotiate a 'let' for ourselves; depending on the EU not wishing to see us exit and the loss of our over-large contribution. Play hard ball with them and be prepared to be a serial rule breaker and non-enforcer of everything that suits us or doesn't suit us. Rely upon the labyrinthine machination of the EU to give us bags of wriggle time and appeal time, and silent shrug time....until much of the problem is away with the East Europeans all sitting in other countries...or we are out of the accursed organization altogether.
As full members we dont have that option as our agreement is bound by treaty not a bilateral agreement
This is the problem with referendums. They decide only part of the picture. The Swiss benefit considerably from the single market but they cannot pick and mix. Free movement of labour is an integral part of the agreement they signed up to. I don't hear the Tories wanting the end of the single market either
I thought of you today. What I like about this country you view as its ruin . Watching the TV programme about Westminster registry office I wss genuinely moved by the people going through their citizenship ceremony. Many had come to the UK from countries where they had faced persecution. They found their home here. I sm glsd we are that sort of country not the monochrome inward looking Britain of the past.
You are correct in that is a real divide between us. I am completely unmoved by such matters....in fact a bit the reverse.
And yes, I can see your distate for the good old 'pik-n'-mix', which you will be unsurprised to learn is very much my way of achieving what I want in life. We really are hardwired with very different circuits. You are probably sensitive to rules and regulations and think it is sacrilege to 'pik-n'-mix', to be economical with truth, to avoid, evade or just blatantly flout? Yes, I am sure you do. I understand that and I really respect it if you follow it 100%....No jay-walking, no teaming and ladling with speed limits, no parking in restricted areas, no cycling on the pavement or through red lights or over pedestrian crossings; no using the office phone or 'borrowing' pens, pencils and notepads; no time-wasting conversations in office 'paid' time, no bunking off early, and naturally no inflated or adjusted expenses??
I see rules being for the guidance of the wise and strict to adherence by fools. I see many laws as an irritation and observe them more in fear of the punishment than anything else. There are many I have broken on countless occasions with not a whiff of concern other than possible but unlikely detection. I am like the man in 'The Prisoner'....."I am a free man."
Of course we need rules and laws, and should observe them in the main, as befits members of a loose society of other beings. But they are neither important to me nor part of my fabric of being. I would have cheerfully bought on the black market in WW2. I used once to flout the speed limits daily and by a marked degree. I have teamed and ladled in many areas.
I have never worried about Conservative or UKIP party policy, or solidarity, or singing from the same sheet. If I think they are wrong, I say so and openly. If I don't like the candidate, I not only don't work for him, but don't vote for him either....Might vote against. No qualms about doing so, even if the party loses the seat. I would never go on strike out of 'solidarity', but only if personally convinced of the necessity of it, 'to me'. Thus, I could never be a 'Brother', 'Comrade', 'Cell member' or member of most unions and some socialist parties.
I note IanRobo often says, in I what I know to be genuine peturbation, how can you say that, yet Farage says this? Or, UKIP policy is 'tother? Simple. I don't really give a toss what the leader or the party say on nearly everything, as long as the general tone and tenor are in my sort of direction. I don't 'fit in' because I don't want to, and because I don't really care all that much about institutions or what people say or think. It is, I can assure you, wonderfully freeing to be like that. I can't imagine being any other way. There is, of course, a touch of anarchy about this, and I acknowledge it.
What if everyone else behaved like that? I hear your cry! Well they don't, and won't, because they don't have the inner mental freedom, or the balls for it. Or, put another way, they are not so monumentally self-centred and iconoclastic. I accept that, and am unconcerned by it. The world needs that sort of person as much as it needs the hidebound and anally retentive.
That was a foreward to again stating the plainly obvious point that a sovereign country can play very hard ball if it chooses to do so. Once we used to do it a lot. I approve of it, if it works. So, with the EU, I would plainly indulge in 'pik-n'-mix' and play fast and loose with all the pettifogging regulations, to suit our personal national needs of the moment, just like a number of members often do now. We must be the most prissy observers of these edicts other than perhaps Germany?
If we do it subtly and circumspectly, without drawing any attention to ourselves, we could get away with a lot without causing hurt. It would be spoiled if the prissy on our own side cried 'foul' and 'grassed us up'; and I fear the 'usual suspects' amongst the 'reptiles', the BBC and the Brothers could be relied upon to do so? So, we would need to use every possible regulation for wriggle room; every appeal; every sub para, until half the Commission is mired in paperwork.....Paperwork that we would painstakingly perfect and submit in ponderous and frequent parcels, with much relating to sheet 10,094 and Cause 103/a iii/ appx 14L vi, where many such references are fictional and help to slow the process further! If we really tried to play the game on my rules we could bring the Commission to a near standstill....with that hint of...All this could go away if you grant us these very trivial concessions. That, all accompanied by a slowing down of payments, short paying, and then refusal to pay at all until all the Commission's Accounts are approved and signed off by auditors!
Now many of you may huff and puff about 'Being Bad Members', 'We are bound by our Treaty Agreements', 'This sort of conduct is unbecoming to a great nation', and 'We would put ourselves outside the rule of International Law'. My response to this is plain and simple. Our Realpolitik should be devised to suit the national purpose and the present needs of the wealth creating sectors of our society.....Period! We can absorb and deflect the flak and if necessary reject the findings of commissions and courts abroad, by use of rejection, appeal, delayed 'consideration', stonewall, or good old masterly inactivity or complete disdain. In truth there is not a lot that can be done against such an attitude short of expulsion or outright war. I just don't believe any of those institutions would push it too far. They might complain, be very cross and give us the cold shoulder for decades; but, really tough attitudes usually prevail. As in divorce, 'Act First', 'Strike Hard' and use the best lawyers....It virtually always succeeds.
I know you would be out of countenance with the whole philosophy and attitude underlying this Mersey......That is the enormity of the divide between us. That is why you welcome foreigners to our society, like international agreements, and see yourself as an ever widening and closer world society....Whilst I see that whole programme as utter bollocks for losers......Just as Christianity is religion for losers. I am not in any shape or form 'A Loser' and I reject utterly having my country become 'A Loser Nation', more concerned with rights and duties to outsiders and to ecology than it is to our Vital Self Interests. Those Self Interests are to me of absolute priority over everything and everybody else in the world. I am a total Hobbesian on that score. Our Interests (really 'My Interests') trump everything always and forever. No compromise.
That is a real and genuine divide of the total make up of our central myth, ethic and mode of thinking and acting. We were a Great Nation once because everyone who mattered felt like me. I want to return to that state and status.
COMPLETELY REVISED AND EDITED 14.12 ON 13/02/2014