Post by Pete Whitehead on Oct 9, 2016 10:42:21 GMT
There are often discussions on various threads about various preferred options for local government reorganisation, with a particular stress on boundaries. Somebody a while ago suggested a dedicated thread so here it is.
Personally I've long been a fan of the Unitary Authority model and would like to see this used throughout the UK.
There were discussions in Hertfordshire in the 1990s about bringing in Unitaries which obviously came to nowt - the main problem being a refusal to countenance breaking up the existing districts which meant that somewhere like Hertsmere could not merged with a neighbouring borough in a way which would work for all the different areas (eg. linking with Watford made no sense to Potters Bar, linking to Welwyn Hatfield and/or St Albans made no sense to Bushey)
My favoured plan at that time was a compact borough centred on Watford which would incorporate the whole of Thre Rivers and Bushey from Hertsmere - possibly to extend further to the East to include Aldenham/Radlett and possibly Elstree/Borehamwood.
That's still an attractive option (not so much from a partisan perspective) but in considering Hertfordshire as a whole it leaves the question of what to do with Dacorum. It's too small to stand alone and the links with St Albans are too weak to justify a link up there.
I'd therefore propose four large unitaries in Hertfordshire which would be as follows:
West Hertfordshire: Watford, Three Rivers, Dacorum and Bushey (Hertsmere) - popn c. 350k. HQ in Watford
Mid Hertfordshire: St Albans, Welwyn Hatfield, Hertsmere (less Bushey) - popn c. 340k. HQ in St Albans
East Hertfordshire: Broxbourne, East Hertfordshire - popn c. 240k. HQ in Hertford
North Hertfordshire: North Hertfordshire, Stevenage - popn c. 220k. HQ in Hitchin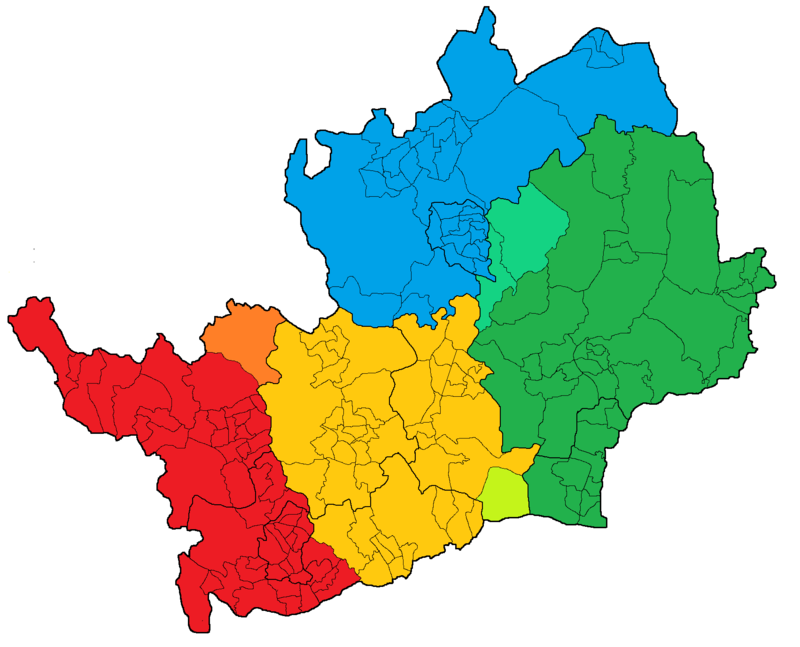 With the main lines of communication running from North to South, the West Hertfordshire proposal makes a lot of sense - the West Coast mainline running through Tring, Berkhamsted, Hemel, Kings Langley and Watford and the A41 following a similar route through to Bushey. Likewise the Midland mainline runs through Harpenden, St Albans, Radlett and Elstree and with the A5 also linking most of these areas. The A1 and the East Coast mainline connect Welwyn and Hatfield to the parts of Hertsmere which are in Mid Herts and here there are good East-West communications in the form of the M25 and A414 which link St Albans to Hatfield and beyond. East Hertfordshire and North Hertfordshire speak for themselves - again there are major road arteries which tie most of the areas together (A10 and A1 respectively)
There is some scope for further variation from existing borough boundaries. There is a case for some of the parishes closest to Stevenage (Datchworth, Aston, Walkern etc) to be included in North Herts. There is a case for Northaw-Cuffley (with rail links to Hertford and somewhat closer road links to Cheshunt than to Hatfield) to be included in East Herts. And there is a case for the parishes of Flamstead and Markyate in Dacorum to be included in Mid Herts as they sit on the A5 and have closer links to Redbourn and Harpenden to Hemel (let alone the Watford/Three Rivers area) (on the other hand there is a good case that the West Herts authority covers everything basically West of the M1)
Obviously these kind of variations can be decided by local consultations and/or plebiscites. There may be other suggestions put forward eg. perhaps Buntingford would prefer to be in North Herts, on the other hand Royston and surrounding parishes may prefer to go in with the A10 oriented East Herts (obviously these two suggestions would be mutually exclusive - they're just examples)