Post by nitory on Sept 21, 2016 21:53:48 GMT
I thought a thread devoted to gerrymandering would be interesting. What odd shapes will be created, what far flung areas will be paired together, how effectively can voters of one party be packed in as few districts as possible. Whether you're deciding between splitting Luton 4 or 5 ways, pairing Wythenshawe with Altrincham, tearing a disliked MPs constituency to shreds or creating pie segment constituencies from Birmingham post it here.
The usual boundary thread discussions about community ties, orphan wards and whether a seat should be named North West xyxyxy, North North West xyxyxy, after an ancient kingdom or a famous train station are still welcome here, they just become secondary to ruthless party advantage.

Here's my attempt at a Yorkshire and the Humber Conservative gerrymander, Labour are packed into 23 very safe seats, the Conservatives would win 25 seats in 2015, the Lib Dems win one and a three way marginal which is notionally Labour but I think the Conservatives could win. I tried to split as few wards as possible, ending up with 4 - all in the Leeds/Bradford area. Any suggestions for improvements are welcome.
West Yorkshire:
Leeds
1) Elmet and Rothwell - Unchanged. Semi-competitive Conservative seat.
2) Leeds North Central - Safe Labour.
3) Leeds South Central - Safe Labour. These two are open to better name suggestions.
4) Leeds North - Labour - Conservative - Lib Dem marginal. Over quota by 1885, will be losing part of Otley and Yeadon to Pudsey. Labour ahead by ~1,000 votes, though there was a tactical squeeze on the Conservatives last year in the Leeds NW parts by the Lib Dems, which may not happen with this seat with the Lib Dems in third.
5)Leeds West - Safe Labour. Over quota by 5,447, Farnley and Wortley ward will be split with part going to Bradford South.
6)Morley - Remains marginal but Andrea Jenkins has a bit more room to breathe, loses the most Labour ward - Stanley and Outwood East and gains the Conservative Birstall and Birkenshaw which pushes her majority up to 4 figures.
7) Pudsey - Remains marginal, only change here is taking in part of Otley and Yeadon ward to reach population quota.
Bradford
8) Bradford South - Safe Labour. Quite a few split wards here, takes in parts of Farnley and Wortley and Thornton and Allerton, while losing some of Bowling and Barkerend to Bradford North to keep within the quota.
9) Bradford North - Safe Labour. Will be gaining part of Bowling and Barkerend from Bradford South.
10) Shipley - one of the few marginal Conservative seats to become less safe as it picks up more marginal wards from the old Bradford seats, but Phillip Davies should hold unless there's a Labour landslide. Only takes in part of Thornton and Allerton where Labour was only slightly ahead in 2015, I may be mistaken but the more Labour voting areas of the ward border Bradford South and will be placed there.
11) Keighley - remains marginal but gaining Wharfedale makes it slightly safer for the Conservatives.
Wakefield

12) Castleford and Normanton- Safe Labour.
13) Hemsworth - Safe Labour.
14) Wakefield - The Conservatives would have won this by a few hundred votes in 2015. Removes Wakefield East (or Mordor as I've christened it in my head
- to be avoided in a Conservative seat at all costs) which makes up the bulk of Labour majority here.
Kirklees
15) Dewsbury and Batley - Safe Labour. Combines the most Labour parts of Dewsbury and Batley and Spen.
16) Spen and Denby Dale? My best attempt at naming this monstrosity, it kind of looks like a shovel and you can only just about drive from one end to the other. Lean Conservative.
17) Huddersfield - Safe Labour.
18) Colne Valley - Becomes safer for the Conservatives by losing Crosland Moor and Netherton to Huddersfield and picking up Penistone West.
Calderdale


19) Halifax - Becomes a Conservative marginal. Am I right in believing Queenbury is a slightly Conservative ward against Labour - albeit with a high UKIP vote?
20) Calder Valley - Becomes more marginal due to Halifax moving eastward and keeping within the quota without splitting too many wards.
East Yorkshire and York: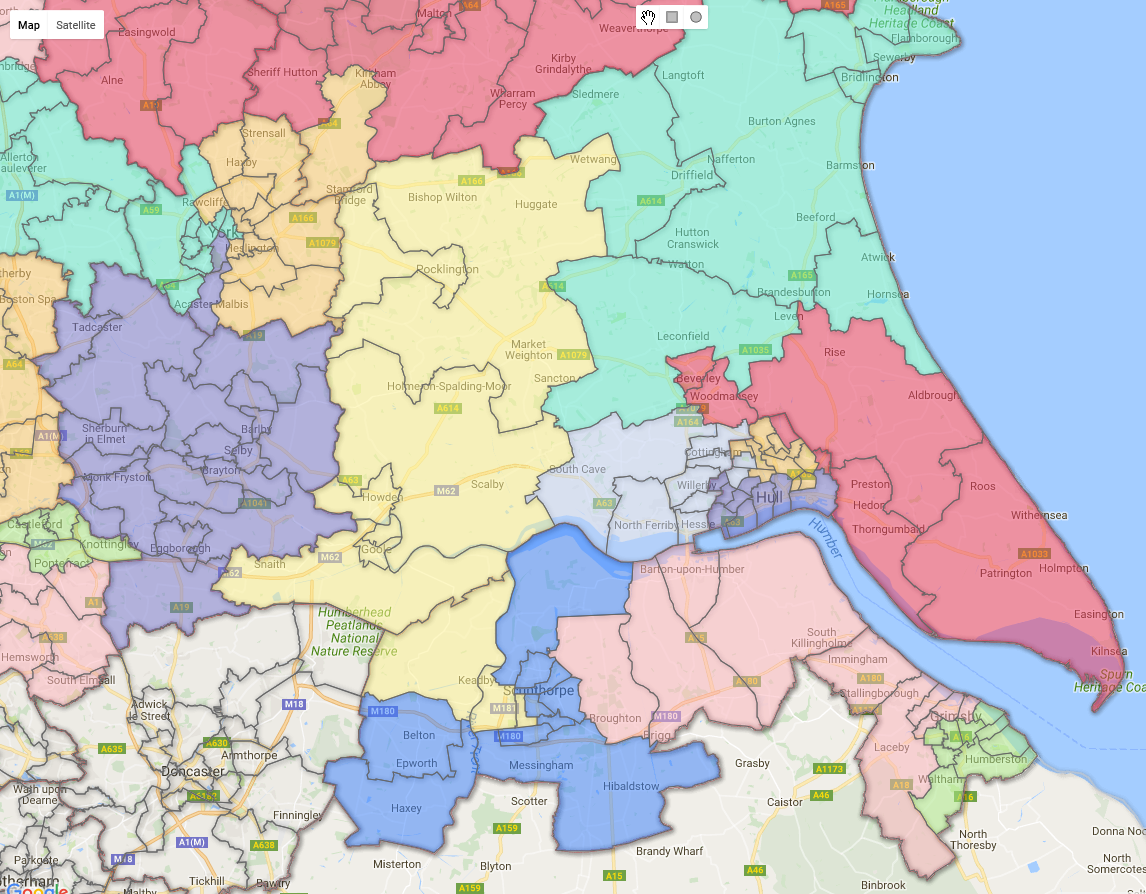 21)
Grimby South and Cleethorpes -
22) Grimsby North and Barton - both identical to the BC proposals
23) Scunthorpe - Becomes a marginal conservative seat by have Goole dip a finger into the town while picking up Conservative rural areas.
24) Goole and Pocklington - Safe Conservative.
25) Yorkshire East - Safe Conservative.
26) Beverley and Holderness - Safe Conservative, though the Conservative majority decreases as it loses rural areas in the north while picking up two wards from Hull.
27) Haltemprice & Hessle - David Davies seat is kept in tact, Still safe Conservative though loses the Howden portion of the seat, picks up two Hull wards - One the Conservative Bricknell, the other the university.
28) Hull South
29) Hull North - Hull is packed into two seats both very safe Labour with Karl Turner's constituency chopped in half.
30) Selby and York Central

- loses the Harrogate portion of the constituency and instead snakes up to take a ward from Central York.
31) York East - Most of the territory here was in the York Outer seat, becomes slightly more Labour, but should still Conservative leaning.
32) York West - Swing seat which has the biggest chunk of the old York Central constituency but now stretches out just outside Harrogate.
North Yorkshire: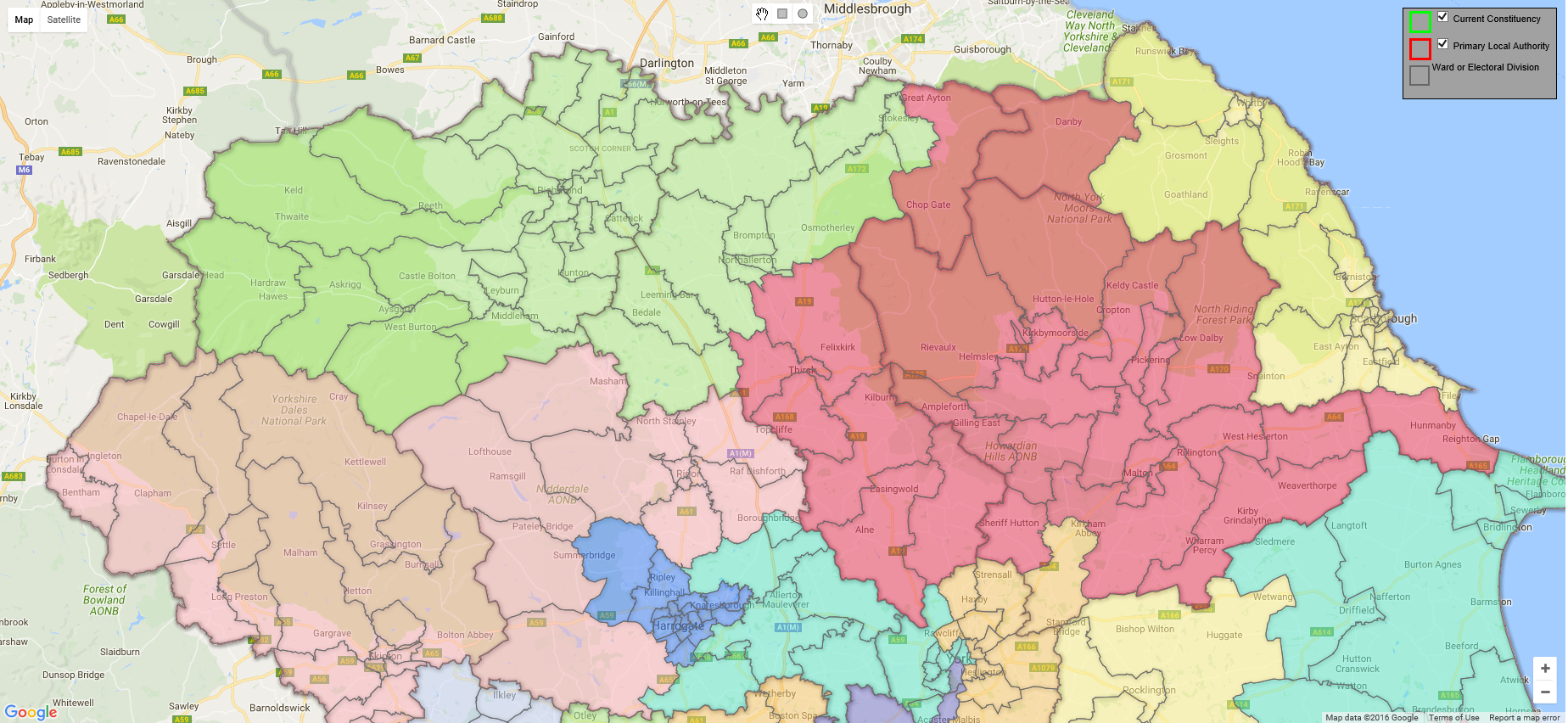 No major changes.
Not even going to bother drawing South Yorkshire - I only like drawing mad, illogical districts for party gain
, so I avoid Sheffield like the plague! Sheffield Hallam is the same as before, just with a ward split to bring it up to quota. Rest of the seats are obviously safe Labour.