Post by East Anglian Lefty on Apr 30, 2016 11:12:35 GMT
I still think a Tyne Bridge seat is reasonable, so I'm still in favour of my initial efforts with a couple of modifications (least change in Middlesborough; putting Prudhoe into Blaydon and using that to neaten up Tyne Bridge.)
But if you are dead set against it, here's a plausible option for Northumberland and Tyneside which I think works reasonably well: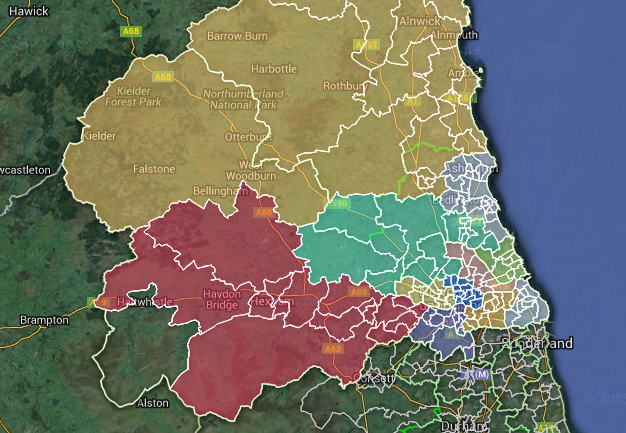 Berwick and Morpeth
(73286) - Berwick gains Pegswood, Bellingham and Morpeth
Ashington & Blyth
(73869) - the rest of Wansbeck, plus Blyth town and Hartley
Tynemouth
(74618) - unchanged
North Tyneside
(76427) - unchanged
Newcastle East
(72409) - gains Gosforth
Newcastle West
(77078) - successor to Central, loses West Gosforth and gains the old Newburn UD
Cramlington & Newcastle North
(73901) - Holywell, Seghill with Seaton Delaval, Cramlington, Ponteland and the Newcastle wards of Castle, Woolsington, Fawdon and Parklands
Blaydon & Hexham
(72591) - the rest of Hexham and the five westernmost wards of Gateshead
Gateshead
(75965) - loses Felling, High Fell and Windy Nook & Whitehills, gains Birtley, Lamesley and Whickham
Jarrow & Gateshead East
(74770) - loses the two Boldon wards, gains Simonside & Rekendyke from South Shields and Felling, High Fell and Windy Nook & Whitehills from Gateshead
South Shields
(71143) - gains the Boldon wards, loses Simonside & Rekendyke
The Gateshead and South Tyneside portion appears to have been proposed in identical form by longmonty. The major problem there is putting Simonside & Rekendyke into the Jarrow seat, but the Simonside area at least appears to have close links to the Bede Estate. You can fix this, but only at the cost of splitting Whickham, which isn't any better.
The innovative bit is what I've done with Cramlington. Whilst several plans have linked it with North Tyneside, I think this is much worse than Tyne Bridge, because you aren't just crossing a local authority boundary, you're also creating a lot of unnecessary change (I don't accept that the Tyne is a particularly impermeable physical or social barrier in the city centre.)
On the other hand, putting Cramlington directly with Newcastle makes a lot of sense. There are good links down the A1 (which does go through North Tyneside, but if you're driving you're not likely to notice this) and it's clearly commuter suburbia. The case for putting Ponteland with northern Newcastle is even more obvious.
What's more, this permits a nice split of Newcastle straight through the city centre, and being able to keep the cohesive block of four wards in the south-west together is a nice bonus.