Post by East Anglian Lefty on Feb 8, 2022 15:40:30 GMT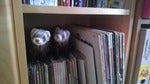 The Lib Dems are happy with the Tees Valley, Gateshead, South Tyneside and North of the Tyne. However, they propose new arrangements for County Durham and the fringes of Sunderland. These include a Houghton & Seaham seat (which doesn't include all of Houghton), a Bishop Auckland seat which covers Newton Aycliffe, a NW (really West) Durham seat that gives the City of Durham a close haircut, a North Durham seat made up of Stanley & Consett and a City of Durham & Chester-le-Street seat.
Labour have counter-proposals in two areas:
North of the Tyne, they think Hexham should gain Bedlington rather than outlying bits of Newcastle. Blyth & Ashington should then regain the Seaton Valley area and Cramlington should go with Longbenton rather than Whitley Bay. You then get a return of Newcastle East & Wallsend. This makes Hexham decidedly unlovely but it's probably an improvement for the remaining seats.
South of the Tyne, they choose not to treat Gateshead on its own, which allows a pattern a little closer to the present one. Jarrow extends further into Gateshead, which in turn gains Whickham. Blaydon goes with Consett and Washington grabs Birtley and Lamesley. Personally I'd have called it Washington & Birtley rather than Washington & Gateshead South if I wanted to sell this. This allows minimum change solutions to Houghton & Sunderland South and North Durham. However, fitting in the four remaining seats mean an awful carve-up of Spennymoor and a Sedgefield seat which extends right to the edges of Durham. I suspect if they'd been willing to propose a ward split they'd have been able to find a much better alternative.
They aren't happy with the situation in Stockton but they don't make definite counter-proposals.
Ten minutes experimentation gives me this much better solution for the four southern-most seats in County Durham, relative to the Labour counter-proposal:
Seaham & Peterlee (70043) - does not gain Sherburn, instead gains Wheatley Hill and Thornley from Trimdon & Thornley ward
Sedgefield (71299) - does not gain Durham South, instead gains Spennymoor and retains only the Trimdon bits of Trimdon & Thornley
City of Durham (72878) - does not gain Spennymoor, instead retains Durham South and Sherburn
Bishop Auckland - as in the Labour proposal.