Post by East Anglian Lefty on Jun 4, 2018 16:22:09 GMT
As discussed on the 'If the North went South' thread, I've recently worked up a plan for a 52-seat Stormont assembly elected by FPTP. This is based upon the Parliament of Northern Ireland. Initially it returned 48 members from 9 territorial constituencies, elected by STV, plus 4 members elected by graduates of QUB, also elected by STV. From 1929 the 9 constituencies were replaced by 48 FPTP seats and from 1968 the university constituency was replaced by 4 new FPTP seats covering suburban areas around Belfast. The boundaries were not overly gerrymandered, but demographics and the tendency of Northern Irish Labour to violently disintegrate every decade or so meant that the Unionists never came remotely close to having its majority threatened. Their worst result was 1945, when they had 33 seats and could also have counted on the support of three Independent unionists and probably the three independents as well.
Obviously there's no real chance of FPTP coming back for Stormont nor the assembly being cut to 52 seats, but it'd still be interesting to see how it'd look now.
I started with a few basic assumptions:
1. Use electoral wards as building blocks, because anything else would be unnecessarily complex;
2. Given the size of the wards, a 5% deviation is far too tight, so I extended it out to 10%. This means that seats could range in size from 21,520 electors to 26,302;
3. Assign seats to local authorities, or where that won't work to combinations of local authorities. However, for groupings of local authorities I used a 5% rule, to try to minimise systemic over- or under-representation;
4. As much as possible, keep towns together. This is tricky, as a lot of Northern Irish towns have two or three streets stuck in an otherwise entirely rural ward, so if you think a seat looks odd this is probably why.
I aimed to draw the map in a fairly neutral way. I'm happy for this to be questioned and obviously the only way to be completely unbiased in Northern Ireland is to be so ignorant you don't realise when you're putting your thumb on the scale, but I didn't set out with any particular partisan attempt.
So, let's start off with the entitlement to seats of each local authority area:
| | | |
| --- | --- | --- |
| Authority | Electorate | Entitlement |
| Antrim & Newtownabbey | 94643 | 3.96 |
| Armagh, Banbridge & Craigavon | 137839 | 5.76 |
| Belfast | 212482 | 8.89 |
| Causeway Coast & Glens | 96228 | 4.02 |
| Derry & Strabane | 103942 | 4.35 |
| Fermanagh & Omagh | 80554 | 3.37 |
| Lisburn & Castlereagh | 96392 | 4.03 |
| Mid & East Antrim | 96306 | 4.03 |
| Mid Ulster | 92830 | 3.88 |
| Newry, Mourne & Down | 118777 | 4.97 |
| North Down & Ards | 113376 | 4.74 |
Most of those work extremely nicely (there was a reason I went for 52 rather than 48 seats), so it's quicker to talk about the problems:


Derry & Strabane would just about work with a 10% limit, but even then it'd be extremely tight.


Even with 10%, Fermangh & Omagh can't stand alone. So the simplest solution is to pair it with Derry & Strabane, for eight seats.


North Down & Ards is slightly too small to have five seats to itself. I considered relaxing the rule, but then I found that there's no solution to that which doesn't look terrible.


Newry, Mourne & Down is about the right size for 5 seats, but if you're letting Lisburn & Castlereagh have 4 then it has to be paired with North Down & Ards.


Armagh, Banbridge & Craigavon is a little small for 6 seats, but it's within 5% and I found a non-horrific solution. But if you do that then you end up with 53 seats, so you have to combine it with NDA and NMD for 15 seats.


You could argue that the net impact of that is to shift half a seat from unionists to nationalists (as the Tyrone seats are undersized and the Down and Armagh ones are oversized.) There's some merit in that charge, but if you want to do it the other way then you have to combine D&S, F&O, Mid Ulster and ABC, which is even uglier, so I'm reasonably happy with the groupings I've picked.
So, having set that out, lets move on to the groupings:
West
Eight seats for Derry & Strabane and Fermanagh & Omagh (with two entirely contained within Fermanagh) and four for Mid-Ulster.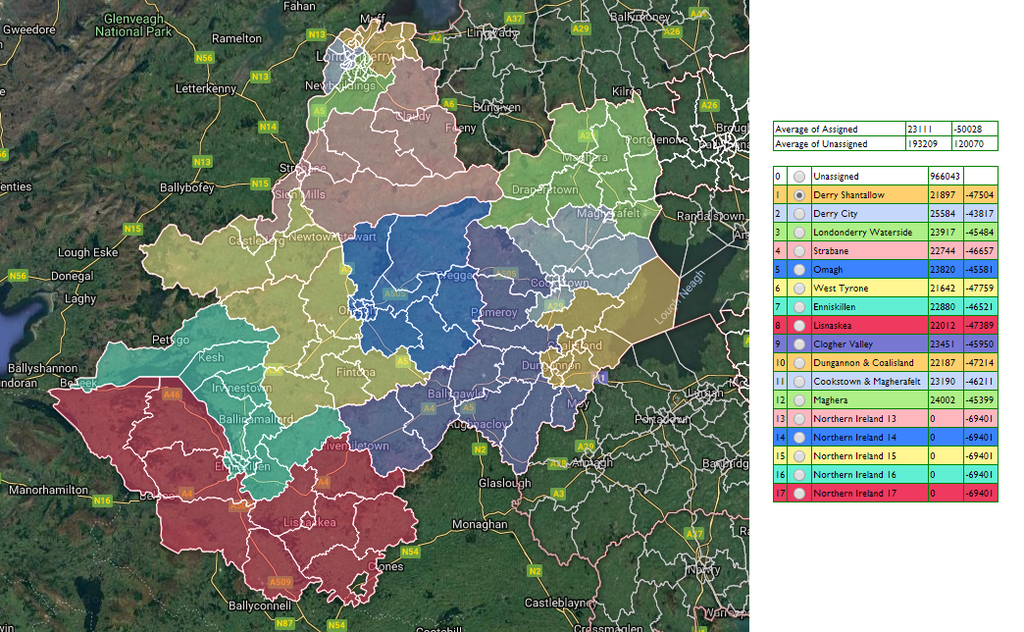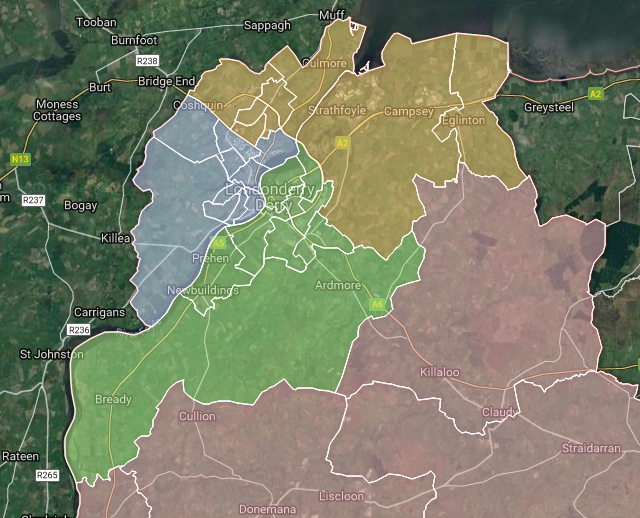 Derry City
(25,584) - a quick word on names is probably needed here. Yes, there'd be an almighty bunfight over this, there's a decent chance the Boundary Commission would try to call the three seats covering the city Foyle North, East and West and at least two parties in any given election would refuse to refer to the seat by its actual name, but at the end of the day a majority of electors in this seat think they live in Derry.
Entirely covered by the Foyleside and The Moor DEAs. Pretty safe SF, it's doubtful any unionist party would save its deposit.
Derry Shantallow
(21,857) - possibly an even more controversial name, but again this is clearly majority nationalist. There's not enough population west of the Foyle for two seats and it's less disruptive to cross over the Foyle Bridge than in the centre.
Would have favoured the SDLP historically and probably still does, though that depends how the dust has settled from last year.
Londonderry Waterside
(23,917) - majority unionist, so it gets the longer form of the city's name. Safe DUP.
Strabane
(22,744) - also stretches over a decent swathe of the Sperrins. Safe SF.
Omagh
(23,820) - Co-extensive with the Omagh and Mid Tyrone DEAs. Rock-solid SF.
West Tyrone
(21,642) - covering the West Tyrone DEA and most of the Derg DEA, this just scrapes over the minimum electorate and is another safe SF seat.
Enniskillen
(22,880) - covers the Enniskillen and Erne North DEAs, which are the two strongest DEAs for unionists in Fermanagh. I suspect it'd still be close enough that there'd be a single unionist candidate (Arlene Foster, presumably), but they'd win easily.
Lisnaskea
(22,012) - the flip side of the equation is that SF would walk it in the other Fermanagh seat, covering the Erne East and Erne West DEAs.
Clogher Valley
(23,451) - it's easy to give Mid Ulster 4 seats. It's harder to give it 4 seats that don't split any towns. I think my solution is reasonable, but this is definitely the leftovers seat. The entire Clogher Valley DEA plus one ward from Dungannon DEA, one ward from Torrent DEA and two wards from Cookstown DEA. This would be competitive, but again I would assume that a unionist unity candidate could hold it.
Dungannon & Coalisland
(22,187) - Dungannon town is fairly marginal. Coalisland isn't. Safe SF.
Cookstown & Magherafelt
(23,190) - if you're wondering why I included the leg to the south of Cookstown, it's because the Cookstown South ward doesn't actually include the south of Cookstown. Possibly marginal versus a single unionist candidate, but under normal circumstances this would go SF.
Maghera
(24,002) - the Moyola and Carntogher DEAs. SF got over 50% of the vote in both of these DEAs at the last local elections, so this one wouldn't be competitive.
I'll move on to Antrim tomorrow and try to get the rest of it done over the course of the week.