Post by albion on Jul 11, 2017 8:34:15 GMT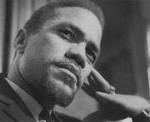 This is a reasonable point. It is fair to say that the matter is complicated by the increasing number in minority groups who are trying to create classes of words that only they are ever allowed to use in any situation. And I don't mean, words which are fairly taboo for some but less taboo for others (a defendable situation, perhaps, given histories, identities, and experiences), I mean a situation where words are utterly banal for some to use continually and casually in everyday life, but utterly beyond the pale and sackable for others to use in any situation ever. This is childish, inconsistent, illogical, undefendable, and entirely predictable from the realms of modern PC nonsense. It comes from the same mind-set as those shouting about Cultural Appropriation, and deserves to be called out.
Having said that, the phrase "Nigger in the wood-pile" remains offensive on many levels, because even if the N word wasn't offensive, the phrase indicates that the mere act of finding a black person is unwelcome. I.e. if the phrase for a bad thing happening was "Frenchman in the wood-pile" I would fully expect anyone French to object strongly to being associated with a bad thing merely on that ground. That's why using this phrase is so utterly stupid.
I do agree it was stupid, but I have never thought it appropriate to condemn so roundly for stupidity. Given that it is so rare to find thoughtful intelligent MPs (such as Andrew Tyrie, Tam Dalyell and Swinson) such an approach could be a problem in the Commons. I rather think the last two posts from our Labour brethren show the depth of the problem in their party since they seem unable to distinguish between racism and stupidity. But what should we expect from a party that refuses to confront its leader on his historic behaviour.