Post by Merseymike on May 24, 2017 11:32:45 GMT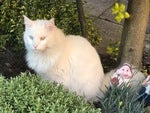 Well-framed question Mike? Difficult for me to answer because there is some truth in your implication. I am at core no more centrist than you are. We have spoken on this before. I have sympathy with your reasoning but also with Trident on other matters. What I dislike in any party is to see a dominant faction dictating to a majoritarian PP and supporting electorate.
Yes the former member here is out of step (even heretical) as to the general party membership, the leadership and the present ethos within the shadow cabinet. BUT, and it is a big but, he is representative of majoritarian opinion in his constituency which to me is more important. I also think that the PLP is more important than an engineered and massaged party membership, and the views and the wishes of the Labour-leaning electorate are most important of all. It is for them and in their name that it is all done.
For you the Party and the Membership is the primacy................And their policies are sacrosanct. Existing members of the PLP must accommodate to the changes or leave in good order and acquiesce by orderly withdrawal. I disagree with that concept. I see Corbyn as an odd and very careless aberration that could only really happen in a Labour Party. He and a small coterie have engineered a client puppet membership of young unthinking clones through Momentum, representing virtually nothing except their own personal vanity. And all for nothing, because as you improve the inherent purity of your policies and message you shed support and votes and consequentially betray the great mass you have always set out to serve.
But I don't believe that the Labour right can serve anyone - because they are utterly bereft of ideas. Blairism was the abberation. The current approach is far more likely to reflect where Labour is heading, although its not linked to having Jeremy Corbyn as leader. No-one will be elected to succeed him who wants a return to the sort of views expressed by @trident or
David Boothroyd
The point is that you have justified the big-tent party, but if that is what you want, then you cannot expect a section of that big tent to take up a permanently subservient position to another section of it. You will find in due course that the economically liberal/free market and libertarian side of your own party - currently somewhat subdued, will await their time to be openly critical of much of May's approach, which clearly from this board some absolutely loathe.
I don't justify the big-tent two party situation, as you know - I think its purely an outcome of the electoral system, and should we have a different electoral system, there would be more parties. But while it exists, I'm clearly not going to back policies and approaches I don't agree with, although there will obviously be the need for compromise on a temporary basis on specific issues.