Post by Merseymike on Jun 13, 2017 9:11:59 GMT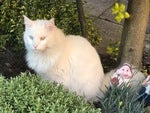 Jeremy is particularly pragmatic on the issue - like me he recognises that there is a case for leaving, although saw the pragmatic sense in remaining and so voted that way.
Yes, Labour as a whole, and as a party, is pragmatic. Part of that pragmatism is currently trying to be all things to everybody, and that is going to be tough to sustain. McDonnell and Starmer are saying very different things and in the current climate getting away with it. Trickier the closer you get to government.
But also, many of your
voters
aren't pragmatic. Some are unpragmatically in favour of getting out without giving a damn about the consequences because they've bought the line (not yours, the line peddled by the tabloids) that austerity can be eased by ending FoM; others are unpragmatically hardline remainers. Sure they didn't vote for us in the election but (a) for those voters the priority was Stop May and you were the best bet (b) a lot of them don't trust us post-coalition and (c) you managed to carefully avoid admitting that you were peddling the same old "cake and eat it" line that Boris was, and that it is equally unsustainable.
The last point is the tricky one because
if
it sinks in then you run the risk of being seen to have pulled a fast one and your whole "never trust a LD" schtick with those voters unravels.
I have to say the last point is
very
conditional because if the only option available is Norway, and with the Tories in govt (haha) and therefore taking the flak, you may be able to pragmatically adopt that, hope it satisfies most of the europhiles (quite a good chance IMO) and hope that the unpragmatic Labour leavers have lost interest in the whole sorry mess and in any case may be happy with whatever solutions you can come up with for austerity (also a good chance if you can get the last bit right.)
But those unpragmatic Labour leavers are just pissed off. They feel no one cares about them, they look at the desecration of their towns, the zero hours contracts, the jobs in the call centres, and lash around for someone to blame - the EU is there, was never something they really 'got', and the option to leave was there, so they took it.
If you think that means they want to be worse off for the sake of sovereignty then I don't agree!