Post by kipper1 on Aug 21, 2019 13:51:31 GMT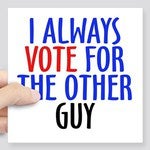 This German MEP seems to think so. The EU will insist on a hard border. And of course the WTO doesn't mandate how anyone chooses to protect their own borders.
Yes we're told "You must avoid a hard border, to necessitate putting one up would violate the Good Friday Agreement which is a sacred text, lodged at the UN, brought peace etc etc" and then its seems the EU putting up a hard border wouldn't violate the Agreement at all
The Belfast Agreement says nothing about trade policy or trade boundaries. People asked about this either tend to waffle about 'the spirit of the Agreement' (in other words its not actually in the text but I like to imagine it there) or they talk about the North-South co-operation part of the Agreement. Now looking at that section it says
5. The Council:

(i) to exchange information, discuss and consult with a view to co-operating on matters of mutual interest within the competence of both Administrations, North and South;

(ii) to use best endeavours to reach agreement on the adoption of common policies, in areas where there is a mutual cross-border and all-island benefit, and which are within the competence of both Administrations, North and South, making determined efforts to overcome any disagreements;

(iii) to take decisions by agreement on policies for implementation separately in each jurisdiction, in relevant meaningful areas within the competence of both Administrations, North and South;
Trade policy and regulatory policy will not be within the competence of either Administration, never mind both
The Agreement also helpfully lists some areas to be covered
Areas for North-South co-operation and implementation may include the following:
1. Agriculture - animal and plant health.
2. Education - teacher qualifications and exchanges.
3. Transport - strategic transport planning.

4. Environment - environmental protection, pollution, water quality, and waste management.
5. Waterways - inland waterways.
6. Social Security/Social Welfare - entitlements of cross-border workers and fraud control.
7. Tourism - promotion, marketing, research, and product development.
8. Relevant EU Programmes such as SPPR, INTERREG, Leader II and their successors.
9. Inland Fisheries.
10. Aquaculture and marine matters
11. Health: accident and emergency services and other related cross-border issues.
12. Urban and rural development.
Notice what's not on that list. Anything about Trade policy, customs or trading standards