Post by Antiochian on Feb 9, 2019 9:57:30 GMT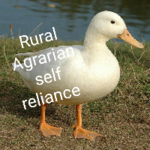 But isn't it largely down to Nigel Farage that we arrived at the point of Brexit, with no plan for the future.
All he gave us was that Brexit was an end in itself.
That said he has chrasma, he has appeal and he draws a crowd.
I don't know if the people who migrated to the SDP, will be seduced back to the warm glow of Nigel Farage.
I would suspect he would draw much more support from the dissatisfied Conservatives.
One of the old chestnuts (repeated again by Tusk this week) is that the Leave campaign "didn't have a plan". The Leave putsch was a loose grouping of forces headed in the same direction. What authority did it have to "have a plan" or even implement it? The referendum wasn't a vote on a plan (neither was 1975 for the EU we ended up with was not the one on offer then).
As things stand Leave won and yet NONE of the individual or collective wishes of the Leave clique(s) have been implemented or are encompassed in the WA.
People love to criticise BoJo for "not having a plan". Hello, BoJo was the MP for Uxbridge & South Ruislip, not the Minister for Brexit... Should he have been waving a 1,000 page manifesto (of his own creation) as the group's policy? Clearly this would have been ridiculous and out of order.
Nigel Farage may have been leader of UKIP but he was just an MEP when it comes down to it and the same with all the rest of them. There was no-one from the Whitehall nomenklatura on the Leave side of the equation. It wasn't an election of a government.
Should NF have had a manifesto? What would its value have been considering he had a solitary MP in Westminster to implement it?
If Leave did have a manifesto that embraced all the issues then what would its validity have been on RefDay plus one as the government was run by Cameron and then May, both Remainers?
Let's finally bury this old shibboleth that Leave "had to have a plan".